With official summer right around the corner, and a population that is ready to get out and enjoy the world again – things are happening in Door County. We've been blessed with a slightly warmer than average Spring, and we have put it to good use by enjoying the beauty of Door County as we reach full bloom.
Vacations will be different this year, but we're committed to making yours as great as ever. While Door County has seen a relatively low amount of COVID-19 infections, we know that the duty to prevent further spread belongs to all of us, both residents and visitors. We are taking this responsibility seriously, and we encourage our visitors to do the same.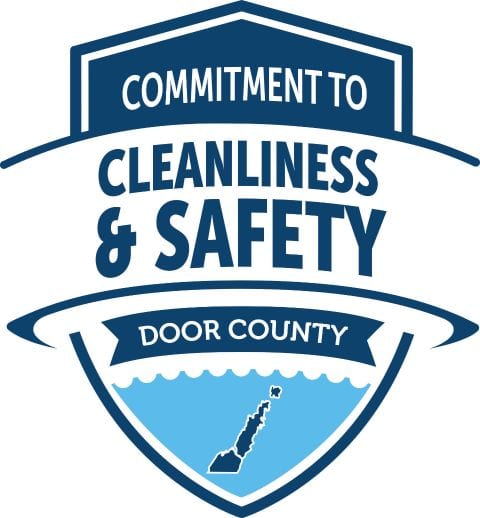 The spirit that brings you back to Door County year after year is alive and well. Safe vacationing in 2020 requires an emphasis on the great outdoors, and the outdoors is what Door County is all about. Establishments all over the peninsula are working to increase their outdoor capacity and ensure guests have a great experience.
Guests of Open Hearth Lodge have always raved about our massive patio and backyard area – perfect for enjoying the fresh air with sun or stars. There is plenty more to explore in the outdoors, as you'll find in the articles below. 

Dining in the Door, outdoors 
…and indoors
That is not to say that you can't dine indoors: most area restaurants are open indoors as well, with varying capacities and requirements. You can learn more about Sister Bay restaurant options below:
ComeToSisterBay.com's Dining Guide

Try something new!
While it's unfortunate that many of the traditional Door County events, festivals, and concerts have been canceled or will be held virtually this year, we hope it leads many visitors to try something new. From kayaking to stargazing, there are so many things to do in the Door County outdoors that you'll always find a new way to explore. The Green Bay Press-Gazette provides some great ideas:
Door County still offers summer fun for visitors to reconnect with family
Door County is Different
We love nationally-published articles promoting Door County, but we have to be honest. Certain catchy monikers like "The Midwest's Cape Cod" and "Chicago's Hamptons" may be good for our tourism industry, but we don't think they paint an accurate picture.

Door County offers something different to our visitors that we've worked hard to maintain. This article does a good job of covering the attractions, but the feeling you get when you're on vacation here is hard to capture in words – you need to experience it for yourself.

Why the Cape Cod of the Midwest Needs to Be on Your Travel Checklist

Don't forget! Door County businesses need your help now!
Call your favorite Door County businesses and ask how you can support them. You can call Open Hearth Lodge anytime to purchase gift certificates.
One More Thing
Door County wouldn't be Door County without the local flavor – those unique residents and events that are unlike anything else. Even in the face of a global pandemic, that local flavor is alive and well: