July is when Door County is in full swing. The weather is typically superb, with bright sunshine heating up the days, and comfortable evenings follow the gorgeous sunsets. Cherry-picking season arrives, and our plentiful hiking trails offer a shady bit of exercise before some relaxing sunbathing on our many sandy beaches.
Even during this unconventional season, vacancies are rare as people see Door County's wide-open spaces and road-trip-able travel as an ideal way to get out of the house after a long Winter and Spring. We're thankful for our guests and their continued support during this time, and we're proud to welcome you, safely, to our County. Enjoy Door County Summer!

Cherry Picking Time!
Door County's unique climate and soil results in the delicious tart cherries that earned us the "Cherryland" nickname. Picking traditional Door County cherries is a fun family outdoor activity that can yield a sizable harvest for baking pies and other goodies. However, sweet cherries thrive in Door County as well, and they are delicious right off the tree! Now is the time for picking sweet cherries, and tart cherry harvest is imminent as well. 
Sweet cherry picking underway in Door County

Chalk it Up to Fun
One of the positive and unexpected trends to arise during the pandemic and subsequent quarantine this year is the explosion of chalk art across the country. This unique artform makes the sidewalk your canvas, and Americans have been using it to share positive messages, say "hi" to neighbors, and promote social change. Wisconsin has organized a state-wide event on July 25th and 26th that makes for a great vacation activity for young and old. Find more details on how to participate below:
Don't be left in the chalk dust: Wisconsin-wide chalk event includes Door County activities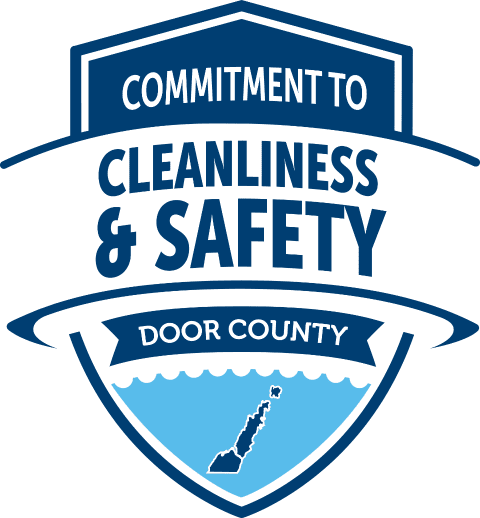 Stay Up To Date
We're all anxious to get back to a normal state of life, and we hope that your vacation to Door County gives you some of that much-needed normalcy. We continue to work hard to ensure a safe and comfortable stay for all of our guests. We assure you that when you are in Door County this year, you will see locals, guests, and businesses taking safety and cleanliness very seriously. 

Still, with conditions and guidelines changing daily, we wanted to point out some resources where you can continue to get the latest information that may affect your travel plans:

Travel Updates in Door County

Door County COVID-19 Information
One More Thing
Door County's unique personality is sometimes found in unexpected places:

Door County Barn Quilts Highlight History, Personality