The off-season months in Door County have always involved distance and a lot of time spent indoors, in contrast to a busy and crowded vacation season. As our great small businesses plan for reopening to a different kind of vacation season this year, we are all taking exceptional efforts to put the health and safety of our guests first.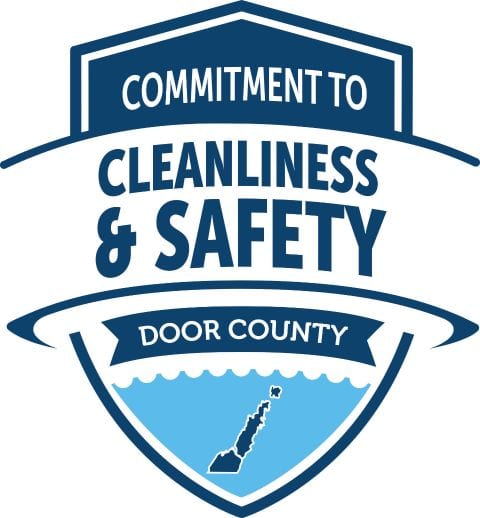 Our business community has organized to create strict guidelines to ensure the safety of our guests this season and beyond. Open Hearth Lodge, as well as many of the Door County businesses you love, has committed to following these guidelines.
These changes to our business operations are an illustration of the pride and resolve of the Door County business community. We're determined to keep Door County at the top of your list of vacation destinations. We realize we offer a unique experience here, something unlike anywhere else in the world.
We understand you may hesitate in booking (or re-booking) your summer vacation, so we want you to know that we're looking out for you. We can't wait to welcome you back.

Innovation in the face of isolation
We've all prepared ourselves for a long road back to normalcy, but we see the importance of carefully taking our first steps down that road. That means that many summer events and traditions won't happen this year. However, this is an opportunity to innovate, and do things in new and unexpected ways. Many Door County organizations and individuals are doing just that.

Here are just a few great examples:

Hairpin 5K Goes Virtual

Sturgeon Bay High School to take graduation on the water

Door County Singer/Songwriter Offers 'Curbside Song Drop-Offs'

Vacations are important
As summer edges closer and closer, many of us haven't given much thought to vacation plans. Perhaps you've canceled plans or never had a chance to book them, and maybe you have wondered if it would happen at all this year.

It's clear that a vacation can happen this year, and it's even more clear that a safe vacation should happen – for your health and well-being.

Why you still need to take a vacation in lockdown — and how to make the most of it

Don't forget! Door County businesses need your help now!
Call your favorite Door County businesses and ask how you can support them. You can call Open Hearth Lodge anytime to purchase gift certificates.
One More Thing
With air travel being even less desirable this year, 2020 may well be the year of the road trip. For many Door County visitors, that means taking the beautiful drive up the Lake Michigan shoreline – the "Fresh Coast". This article from Travel Awaits shows that there is a lot to see on the way.

Wisconsin Road Trip: Kenosha To Sister Bay
Open Hearth Lodge is open for business. To check availability or to make reservations, click here.