Forgive the obvious/cliché headline for the July issue of a newsletter about Door County, but as summer 2021 reaches it's peak, Door County is reaching a new level of notoriety as THE vacation destination of the Midwest.
How do we know this? The sheer volume of articles being published with coverage of Door County tells us that there is a lot of interest, both in the Midwest and beyond. Add to that a busy 2021 season that looks to be record-breaking, and it's pretty clear that Door County is the place to be. 

Door County is Everywhere
As we continue to put the pandemic behind us, travel-starved Americans are looking for domestic getaways, and Door County keeps popping up in searches and articles from coast to coast. There is much to read and learn about our county, so take a look a bunch of great articles with great advice about what to do and see in Door County.

Door County is Back in Business

Where to eat, play, and stay in Door County, Wisconsin

Where to Eat While Visiting Door County, Wisconsin

I spent a day with my family in Door County. Our getaway included everything from kayaking, a fish boil, drive-in and more.

Things to do in every town in Door County, from Sturgeon Bay to Egg Harbor

Door County is Delicious
Once the land of ice cream stands and family restaurants, Door County has become a destination for foodies, with an innovative and thriving culinary scene. Palates and pocketbooks of all shapes and sizes can find unique and delicious experiences all over the peninsula. There are many well-established places to return to year after year, but the frequent new additions to the scene are always fun to check out. 18 New Door County Restaurants to Check out in 2021

Door County is Iconic
We all shed a tear when the old Eagle Tower was deemed unsafe in 2015, and then torn down in 2016. Built in the 1930s, the iconic tower provided generations of Door County explorers with breathtaking views of the peninsula. 

After 5 long years, Eagle Tower is back and ready for everyone to enjoy those views, thanks to an 850-foot boardwalk that takes you on an elevated walk through the nearby woods. 

Watch now: A tower like none other in Door County

Eagle Tower dedicated at Peninsula State Park in Door County
One More Thing: The View from Above
The addition is completed (and beautiful), the spacious, dog-friendly units are available now, and we're just wrapping up some of the exterior landscaping. The NEW and IMPROVED Open Hearth Lodge welcomes you back!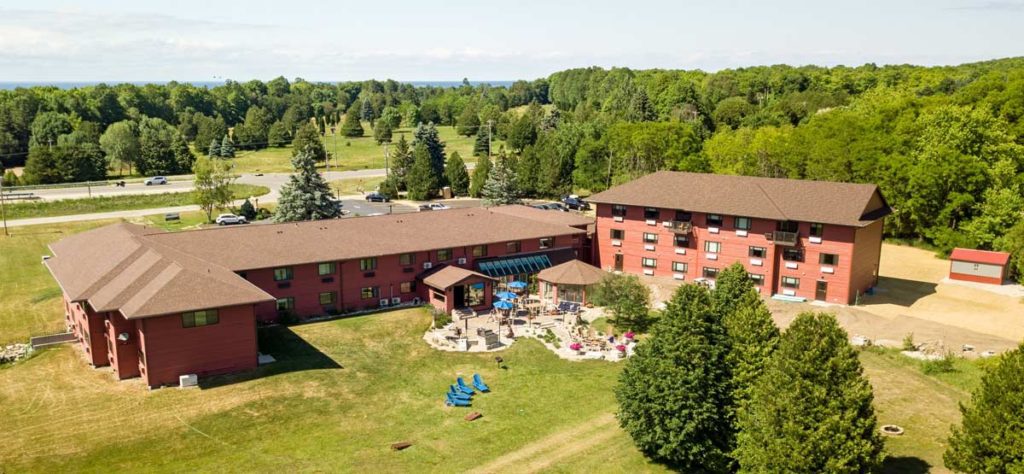 Charged Up!
We just installed a new EV charging station, so you can energize your vehicle and be ready for the trip home. The ChargePoint station can charge 2 electric vehicles, each in a dedicated parking spot while charging. It's also equipped with wireless payment options. We're excited to offer this cool and sustainable technology at Open Hearth Lodge!