Open Hearth Lodge is thrilled to announce that we are taking reservations for rooms in our new dog-friendly expansion. Construction is wrapping up and these great new rooms are ready for you, your family, and your pooch. In honor of our upgraded dog-friendliness, we're making this whole issue about man's best friend. Dogs have a special place in our heart, and you can frequently see our own dog, Loki, behind the front desk welcoming guests as they arrive.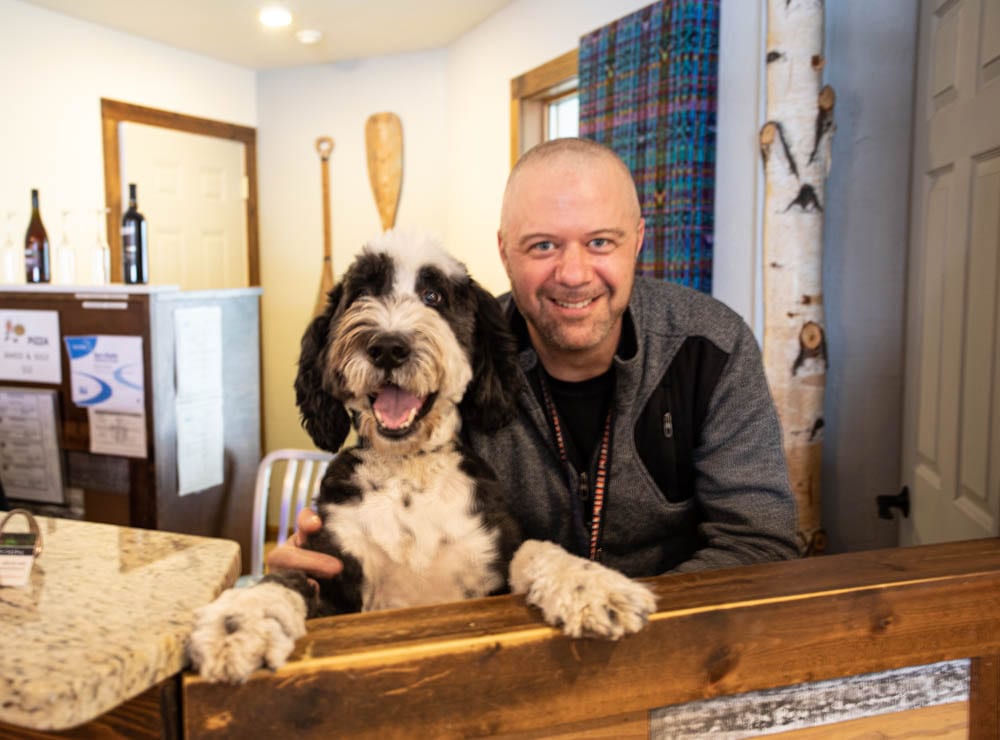 While Door County has always been a very dog-friendly place, the choices for quality family lodging that includes pets are sparse. We're addressing this with a dedicated wing of our building that is specifically intended for guests who are traveling with their dogs. You'll find the same great amenities we offer to all of our guests, but with a dog-friendly touch.
Not a dog lover? Well, you may not enjoy this edition of Up At The Lodge as much as other editions, but rest assured that Open Hearth remains a great vacation destination, even if you would prefer to avoid the four-legged friends of others. In fact, our new expansion allows us to fully separate dog-friendly from people-only: guests with dogs will go left, guests without dogs will go right. Open Hearth Lodge is designed for everyone!
Call today to reserve one of our new dog-friendly hotel rooms! You don't need to have a dog to enjoy these new rooms, they are designed for comfort and convenience for guests of all types. 

Dogs in Door County
As mentioned above, Door County is a great place for dogs. Summer brings plentiful options for canine entertainment, including swimming, running on trails, meeting new friends at the dog parks, or just lounging on the patio while your people dine out. Destination Door County has some great resources for pet owners visiting Door County:

Pet Friendly Dining in Door County

Top 7 Pet-Friendly Experiences

Dogs are the Best
We don't have to convince you that dogs are the best, but regardless, every dog person enjoys a good story about the amazing abilities of dogs. We know dogs are great companions, but the intelligence, loyalty, compassion, and boundless love that they exhibit for those that love them is truly remarkable. Here are just a few recent stories of dogs improving and transforming the lives of humans:

Growing evidence shows service dogs may reduce anxiety in practical ways for veterans with PTSD

These adorable puppies may help explain why dogs understand our body language

With impressive accuracy, dogs can sniff out coronavirus
Dogs on the Road
Dog personalities come in all varieties, and many of them love to go to new places and see new people. Others may suffer from anxiety when traveling. Whatever the case may be with your dog, it's best to be prepared for the trip. 

We'll take care of things when you and your pooch get here, but here's two articles with great products and tips that can help with your journey: 

10 products that make traveling with dogs easier

5 Veterinarian-Approved Tips for Traveling with Your Dog

Pandemic and Dogs
For most dogs, the pandemic has been great! The family is home all day, walks are frequent, and attention is plentiful. The rise in dog adoptions shows that more people are willing and able to bring a new friend into their home during this time. However, there is a downside for these pooches once we all start going back to work and school: separation anxiety. 

How to help your dogs with post-quarantine separation anxiety

A Dog Drove into a Building?
Door County frequently makes national news for less-ridiculous reasons, but this story is too funny to not go viral. 

Dog blamed for car crash into building
One More Thing: Open Hearth Expansion Update
The building is nearly completed and we are taking reservations to fill it with dogs and their families this summer! The new rooms are available to all guests, whether you have a dog or not. Call today to book your room!